Removals & storage partners
The Finishing Touch works with all of Australia's major removalists, relocation services and self storage companies.They use us to pack homes professionally and efficiently, and provide the transformation from a hectic, box-filled house into a comfortable new home.
Removals partners
We have been in business for over 20 years and have partnered with quality removalists all over Australia. Whether big or small, suburban or national, we work with them to ensure a seamless move experience for you. Together we'll co-ordinate the logistics of your move so it runs as smoothly as possible.
Our ladies will have everything packed up in your home ready for the removals trucks to arrive. The removalist will then load all boxes and furniture and transport it to your new home or storage. Once they have delivered your goods, we'll work our magic to get everything unpacked, tidy and organised.
The Finishing Touch is happy to work alongside any removalist you choose, or if you'd like, we can recommend a quality removalist. Whether you are looking for a budget or a full service move, are moving overseas, around Australia or down the street, we can recommend a quality removalist to meet your needs.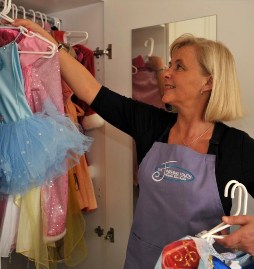 Convenient self storage solutions
The Finishing Touch similarly works with major storage facilities all over Australia and can refer convenient and cost effective storage options to you. We have relationships with high quality storage companies, who will provide exceptional service whatever your needs and will extend discounted pricing for packing materials and storage to you, if you are using The Finishing Touch.
If you are packing your home for storage, to renovate, sell, move overseas or simply free up some space, our staff can assist to get you ready to store.  We can refer a convenient, local storage facility, and then assist to prepare your belongings, by packing everything safely into boxes.  Likewise, if you are retrieving belongings out of storage, we can assist to get everything unpacked and put away. 
For details of the best storage options near you, please call our friendly Customer Services team who will put you in touch with a convenient local facility.
Partner with us
Please call our Client Services team if you are interested in working with Australia's leading home packing and unpacking service.
You may be a property stylist, real estate agent, property developer, relocation service or removalist.  The Finishing Touch works closely with a wide range of business partners in a variety of industries.
Even if you are a removalist and have your own packers, we can assist with female packing expertise at peak times or for VIP packing services.  If your clients are looking for a higher level of service than "unpack to benchtop", our professional unpackers can help.